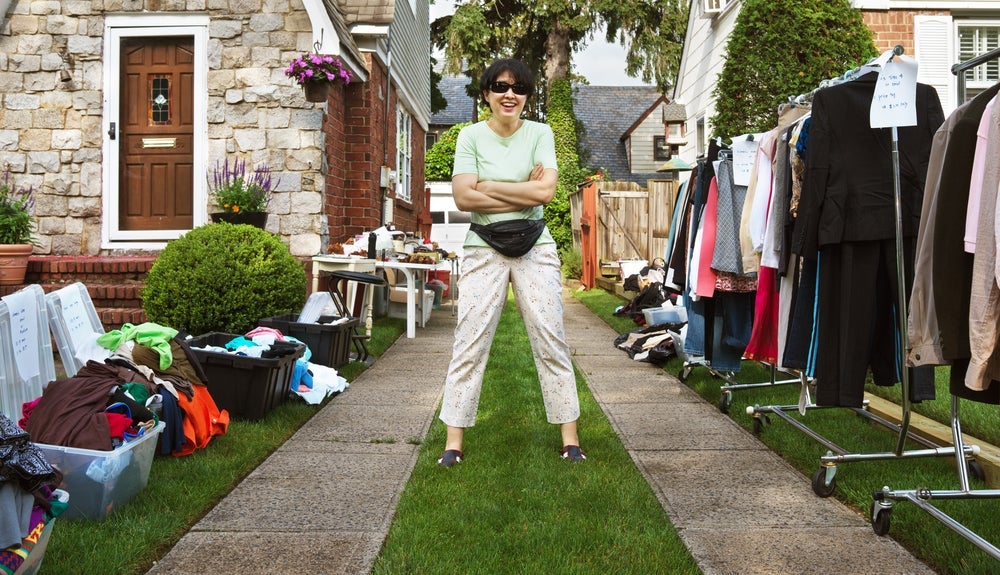 There are many reasons to hold a garage sale, but of course, the main reason is to declutter your home and get rid of stuff you don't use anymore. It's a constant cycle of acquiring stuff and then not using it anymore and if you don't do something to get rid of them, you'd end up with a house full of junk. 
How to Determine which Stuff Goes on the Garage Sale
How do you know which stuff to throw out, which ones to put on a garage sale and which ones to keep?
·

        
The basic rule of thumb is, if you haven't used or worn something for at least a year, then it's time to take it out.
·

        
Put yourself in a buyer's shoes, if you think something is still worth buying, then put it on the list of things for sale.
·

        
If it shows very significant signs of usage such as cracking, flaking, and tears beyond repair, then it goes into the list of things to throw.
·

        
If it's just dirty or if it can be repaired, wash a
nd mend respectively and put the item on sale.
·

        
Give at least a month of preparation.
·

        
Ask friends and neighbors to join you on a neighborhood garage sale. People are more likely to come if there are many options to choose from in one area. Meet with the rest who are interested to join the garage sale. Decide on a particular date and time. 
·

        
Schedule the sale during weekends or when most people do not have work. If there is much stuff to sell, you can schedule a 2 or 3-day long weekend sale.
·

        
If you decide on a particular time to start, make sure to be at least an hour early to accommodate early birds. Make sure to stick with your closing time too.
·

        
Check with your city, neighborhood or county. There might be permits needed in order to hold a garage sale.
·

        
Draw a layout of the location and where each seller would be positioned.
·

        
Prepare a schedule for all of the participants for lunch and snack breaks. Keep in mind potty breaks too. There must be enough manpower to assist sellers from opening to closing time.
·

        
Have a contingency plan in case it rains. Prepare electric fans and canopies if you live in a hot climate area.
·

        
Decide on the fixtures that you are going to use. How many tables, racks and chairs would you need? Who will provide them? 
·

        
Let the participants prepare extra stuff like receipt book, notepads or papers, calculator, pens, money box, and price stickers. If they are going to sell clothes, let them provide hangers for the clothes.
·

        
Start advertising as early as possible.
·

        
Prepare signages and flyers to give out. Distribute them at grocery stores, shops (if the owners permit), front doors and around the neighboorhood.
·

        
Advertise online through popular social media channels like Facebook, Twitter, and Instagram.
·

        
Word of mouth is the most efficient way to advertise your event, so get the word out as soon as you have finalized things.
·

        
Use old cardboards on stakes to make the signages. It should show the event date, time, and location with arrows pointing to the right direction.
·

        
Make the text big enough for those driving past to see. Position them in areas where they are easily visible to drivers and passers-by.
·

        
Make use of old cloth or sheets to paint your advert and hand them in high traffic areas.
·

        
Always check with your local community if permits are needed to post signages or distribute flyers. 
·

        
Clear the selling area, make room for tables chairs and racks. 
·

        
Allot adequate spaces for people to pass another. Assign entrance and exit points if possible for better traffic flow.
·

        
Cover tables with attractive tablecloths.
·

        
Set up the signages the night before. Add balloons and other decorations for a more festive look.
·

        
Check lightings (if necessary), audio systems, and electrical outlets or extension cords if everything is working fine. Position electronic gadgets and appliances near the electrical source for easy testing.
·

        
Have batteries ready for testing purposes. Keep a tape measure and yardstick for clothes and big ticket items respectively.
·

        
For high-value items such as jewelry and watches, just display the box and put a sign "ask to see". Same goes for big items such as a piano or large appliances.
·

        
Have plenty of loose change and smaller bills. 
Preparing and Pricing the Items
·

        
Pack the items per merchandise. For instance, pack all women's clothes in one box, men's clothes in another and children's clothes in a separate box. Cover breakables with newspaper and pack them securely in a thick box or container.
·

        
As a rule of thumb, pricing should be around 1/3 to ½ of the retail price depending on its condition.
·

        
Use colored stickers so customers can easily see them. For paper products, avoid sticker tags as it may ruin the item.
·

        
Indicate items with minor fixable problems. Customers will appreciate your honesty.
·

        
Have a master list of prices per item. It would come in handy in case tags are detached.
·

        
Never use a marker on a merchandise. You'll ruin the item.
·

        
Be prepared for a lot of haggling. 
It may look easier than you think, but a garage or yard sale actually needs ample preparation and organization in order for the event to be successful. Make sure to get enough sleep the night before the event. You must have the energy to face, smile and greet customers. Your goal is to dispose of as much as you can during the sale. If there are many items left at the end of the first day, adjust your pricing or arrange for bundled items (buy one, get one free) so there won't be as many leftovers to pack up at the end of the garage sale.